NEW ALBANY HISTORY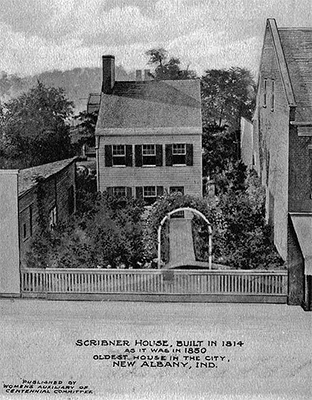 The buffalo, which left the Great Plains to visit the salt licks of Kentucky, came through what is now Floyd County and New Albany by the thousands. The trail they made is still plainly visible and was the basis for the first westward road from Louisville to Vincennes.
Starting with George Rogers Clark and his poorly equipped soldiers who gave the infant United States a claim to the vast Northwest Territory from the British, the Northwest Ordinance of 1787 created territory out of which Indiana emerged as a state. To this area came the Scribner brothers, Joel, Nathaniel and Abner in 1812-1813 from New York. The land below the Falls of the Ohio was chosen because of its potential for transportation, ship building, and other business.
Early in 1813, the first tree was felled to clear the land for what was to become New Albany. The first Scribner cabin was at East Sixth and Main streets; later in 1814, the present Scribner House (pictured) was built by Joel on the southeast corner of Main and State streets. Immediately, the ground for the new settlement was platted and named New Albany in honor of the capital of their home state, New York. In 1817 New Albany was incorporated as a town while still a part of Clark County. But thanks to the efforts of Nathaniel Scribner, Floyd County was recognized as a county in its own right in the spring on 1819. Cut out of Clark and Harrison counties it was named "Floyd" supposedly after Davis Floyd, a territorial politician and friend of Aaron Burr. Davis Floyd became the first judge in the county. The county itself is the second smallest count in land size in the State.
Prior to the building of the locks on the Louisville side of the river, New Albany was one of the largest cities in the middle west due to the influence of the river. In 1839, New Albany became incorporated as a city.
During this period of time, a man by the name of Epaphras Jones decided to found a town by the name of Providence at the foot of Vincennes Street. He hoped to establish a ferry at this locality to Louisville. Jones was not as careful in the mapping of a town as his New Albany neighbors who had carefully planned their land. When he finally became discouraged with his idea, the houses in Providence had straggled out to meet the upcoming New Albany residents. This accounts for the sharp curve at East Tenth Street from East Oak to East Spring streets.